iMacsoft iPad to Mac Transfer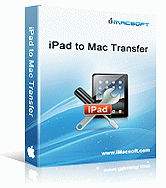 Price: $25

Get Win Version

When you lost the iTunes music or when you want to backup your iPad collection on Mac in case files are damaged or crashed, you need a iPad to Mac transfer to copy iPad files to Mac, transfer iPad to Mac. iMacsoft iPad to Mac Transfer can allow you to transfer/copy Music, Movie, Photo, ePub, PDF, Audiobook, Camera Roll, Podcast and TV Show from iPad to Mac. Moreover, you can freely copy files to iPad library on Mac, or easily add iPad files to iTunes.

With this iPad transfer for Mac software, you can create, edit and delete iPad playlists. What's more, iMacsoft iPad to Mac Transfer even enables you to open iPad with Finder and use it as a portable hard disk. Also you will find that quick search and filter tools help you hit what you want as easily as iTunes does.

iMacsoft iPad to Mac Transfer can keep well compatible with all types of iPad/iPod/iPhone, such as iPad, iPad 2, the new iPad, iPad mini, iPad 4, iPod classic, iPod shuffle, iPod shuffle 6G, iPod nano, iPod nano 5G, iPod nano 6G, iPod touch, iPod touch 4, iPhone 3, iPhone 4, iPhone 5, iPhone 5S/5C, iPhone 6/6 Plus, even the updated iOS 8.

Your iPad, your way. The iPad to Mac Transfer provides an ideal solution for you to manage, rip, copy, backup iPad, iPod and iPhone on Mac. Free download it and share iPad files with your friends!
Compare products:
iPad to Mac Transfer, iPad Video Converter Mac, DVD to iPad Converter Mac, DVD to iPad Suite Mac, iPad Mate for Mac, Mac DVD Toolkit.
Please click here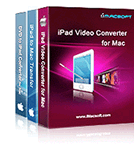 Including iPad Video Converter for Mac, DVD to iPad Converter for Mac and iPad to Mac Transfer. Rip dvd and convert movie to iPad, transfer iPad files to Mac with ease... Learn more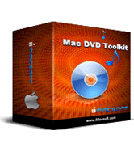 Including DVD Ripper for Mac, Video Converter for Mac, DVD Copy for Mac, DVD Creator for Mac, and iPod to Mac Transfer. This toolkit is a truly efficient solution for all your DVD needs. Learn more
The latest functions
Fully support the newest update iOS 8 and iTunes 12
Transfer iPhone SMS from iPhone to Mac as .txt file
Transfer iPhone Call List from iPhone to Mac as .txt file
Transfer iPhone Contact from iPhone to Mac as .txt and .csv files
Transfer photo files from Mac to iPad/iPhone/iPod touch with iOS 5.0 or above
Transfer ePub, PDF files from Mac to iPad/iPhone/iPod touch with iOS 5.0 or above
Support the updated gadgets
iMacsoft iPad to Mac Transfer fully supports latest iOS 8 and iTunes 12;
Transfer iPad files to Mac
iMacsoft iPad to Mac Transfer can transfer Music, Movie, Photo, ePub, PDF, Audiobook, Camera Roll, Ringtone, Contact, Podcast and TV Show from iPad to Mac for share and backup;
Copy files to iPad
iMacsoft iPad to Mac Transfer can transfer Music, Movie, Podcast and TV Show from local folder on Mac to iPad without using iTunes;
Transfer iPad to iTunes
iMacsoft iPad to Mac Transfer can easily transfer Music, Movie, Ringtone, Podcast, TV Show, PDF, ePub and Audiobook from iPad to iTunes in just one click;
Compatible with all types of iPad/iPod/iPhone
iMacsoft iPad to Mac Transfer works with all types of iPad/iPod/iPhone including iPad, iPad 2, the new iPad, iPad mini, iPad 4, iPod classic, iPod shuffle, iPod shuffle 6G, iPod nano, iPod nano 5G, iPod nano 6G, iPod touch, iPod touch 4, iPhone 3, iPhone 4, iPhone 5, iPhone 5S/5C, iPhone 6/6 Plus, etc;
Use iPad as a portable hard drive
iMacsoft iPad to Mac Transfer can open iPad with Finder to make iPad a portable hard disk for managing all iPad contents freely;
Identify iPad info
Connected with Mac computer, iMacsoft iPad to Mac Transfer can automatically show you iPad model, capacity, version, format and serial number;
Create and edit iPad playlists
This iPad to Mac Transfer allows you to create a new playlist to add music, videos for quick access;
Quicker search
iMacsoft iPad to Mac Transfer can locate movie, music or photo in your iPad with quick search or filter iPad files by artist, album, genre, composer to get what you want quickly;
Two modes to view
iMacsoft iPad to Mac Transfer provides two modes to view iPad: list and thumbnails. You can add illustration for music/photos/videos in thumbnails mode;
Edit ID3 tag
View the detailed file info, and edit ID3 tag for music transfer from iPad to Mac and iPad to iTunes;
| | | | |
| --- | --- | --- | --- |
| iPad | iPad 2 | the new iPad | iPad mini |
| iPad 4 | iPod classic | iPod nano | iPod nano 4G |
| iPod nano 5G | iPod nano 6G | iPod touch | iPod touch 4 |
| iPod shuffle | iPod shuffle 6 | iPhone 3 | iPhone 4 |
| iPhone 4S | iPhone 5 | iPhone 5S/5C | iPhone 6/6 Plus |
File Format Support
| | | |
| --- | --- | --- |
| MP3 (MPEG Audio File) | M4A (AAC Audio File) | M4V (MPEG-4 Video File) |
| MP4 (MPEG-4 Video File) | MOV (QuickTime Movie File) | AAC (Advanced Audio Codec) |
| AIF (Audio Interchange File Format) | WAV (Windows Audio File Format) | BMP |
| JPEG | GIF | PNG |
| | |
| --- | --- |
| Operating system | Mac OS X v10.5 - 10.10 Yosemite |
| Processor | Intel® processor |
| Available HD space | 30MB free hard disk space for installation |
| Display | Super VGA (800 x 600) resolution or higher |
| iTunes | iTunes 9.1 or later version is needed to support iPad OS 3.2.2 |
| iTunes | iTunes 9.0 or later is needed to support iPhone OS 3.1, iPod nano 5G FW 1.0 |
| iTunes | iTunes 9.2 or later is needed to support iOS 4.0.2 |
| iTunes | iTunes 10 or later is needed to support iOS 4.1 |
| iTunes | iTunes 10.1 or later is needed to support iOS 4.2 |
| iTunes | iTunes 10.2 or later is needed to support iOS 4.3 |
| iTunes | iTunes 10.5 or later is needed to support iOS 5 |
Main Screenshot