How to transfer podcasts/iTunes U/Books purchased on iPhone to my computer?
Podcast is a series of digital media files (either audio or video) that are released episodically and often downloaded through web syndication. The iTunes Store puts thousands of free podcasts at your fingertips. To find them, select iTunes Store underneath the Store subheading in the left column of the jukebox window; then select "Podcasts" from the menu bar along the top of the store. And all the purchased or downloaded podcast and iTunes U will be stored on there, see the below photo, of course, they had been dispatched into their own library in iPod list.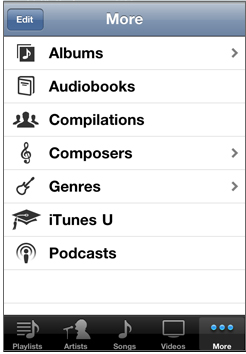 And the solution on moving iPhone podcasts/iTunes U files into PC local, fast and easy to use, professionally offerred by
iMacsoft iPhone to PC Transfer
program, it can open all iPhone items, surely for the purchased podcast/iTunes U/Books, in the list of interface, manage the items as your own, freely delete and export. Refer to the below article and learn how to get the iPhone podcast/iTunes U backups on computer.
---
Updates and Functions:
1) All series of iPhone/iPod/iPad can work well on the program
2) iOS 4.3, iOS 5.0 and newest operating system for iPhone/iPad/iPod
3) iTunes 10.3 or above even 10.5 are available
---
How to Get?

Free Download (5.49MB)

Buy Now ($ 19.oo)

Connect iPhone and launch the
iMacsoft iPhone to PC Transfer
software, all iPhone files are shown up in the interface, such as Audio, Video, Books, Ringtones, playlists, Photo, Voice Memos, Camera, SMS, Contact, Call List, Podcast, Purchases and iTunes U, you can open any item to view the equivalent of files on your iPhone library.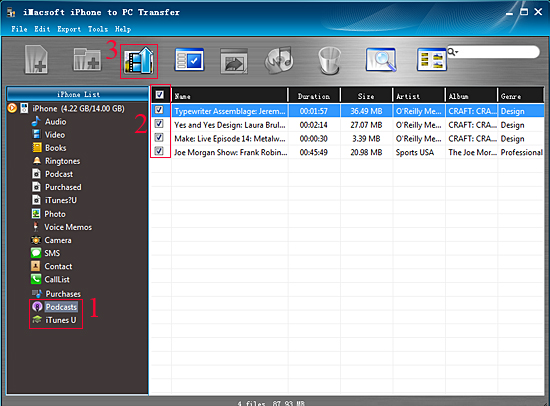 1) In the left panel of the software, click "Podcast" or "iTunes U" item and all the relevant files in iPhone library will be shown up in the interface. The info of files consist of Name, Duration, Size, Artist, Album, Genre, etc.
2) View the "Podcast" folder, all the podcast you purchased from iPhone are listed on the panel, Check the podcasts you wanna transfer and press "Export checked files to local" button on the toolbar. Or choose "Export->Export to local" option on the top-menu.
3)Choose a target folder to save the exported podcast/iTunes files on PC hard driver. After the copying process of iPhone podcast/iTunes U backup, you view and watch them locally on PC.

How to export books off iPhone book store for backup?
As you all books, no matter purchased from iPhone or loaded from PC computer local, they are all stored on iBooks app in iPhone. Just slightly click the books cover with your finger, read book as real book on your hand.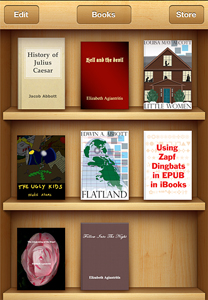 For book readers, it is very important to back up all purchased books on PC local in case of iPhone crashed or erased while iPhone sync process.
iMacsoft iPhone to PC Transfer
will allow you to easily export any books (ePub, pdf, audiobook) off iPhone iBooks store and store on the local.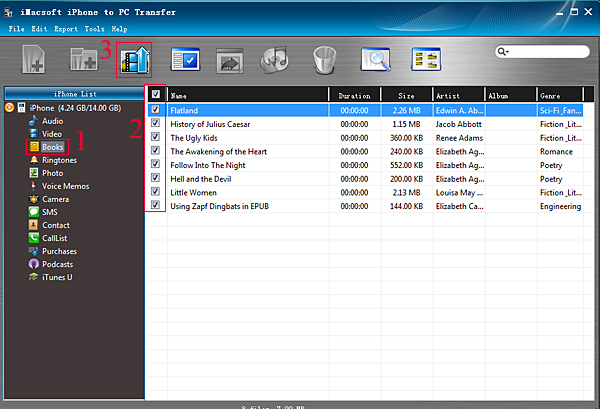 1) Run the iMacsoft iPhone to PC Transfer program and connect iPhone to computer.
2) Open the "Books" icon and select/check the books you wanna export off iPhone library.
3) Export the selected books on computer local, in the toolbar, press "export the checked files to local" button to start exporting books onto PC local.