How to export iPhone contacts as .CSV files to PC?
Being able to export iPhone contacts to a .CSV file is very useful in many situations For example to sync iPhone contacts TO Gmail, Outlook, Yahoo!, Hotmail,... CSV stands for comma-separated values format, it is a type of single open document format for representing data in tabular form, in which the columns are separated by commas and rows by newlines. These points should be provided many times when you open the file, for example, with a spreadsheet.
iMacsoft iPhone to PC Transfer
is designed to help users transfer files from iPhone to PC. It can help you to export iPhone contacts to a CSV file, then you can recover them when necessary. It allows you to export iPhone contacts to csv, txt file. If you have an iPhone, it is a must-have utility to keep your iPhone safe. It supports iPad, iTouch as well. Refer to the following guide and export iPhone contacts as .CSV files to PC completely.
1. Connect iPhone to PC
Free download iMacsoft iPhone to PC Transfer
, once you connect iPhone to PC, all info about iPhone device itself will be shown up, such as Format, Version, Storage, Serial Number, Device Type, etc. And in the left panel, all iPhone library folders including Audio, Video, Photo, SMS, Ringtone, Books, Contact, Camera Roll, Voice Memo, Call List, etc. are also displayed in the interface.
If you wanna get full version and purchase it at very low price.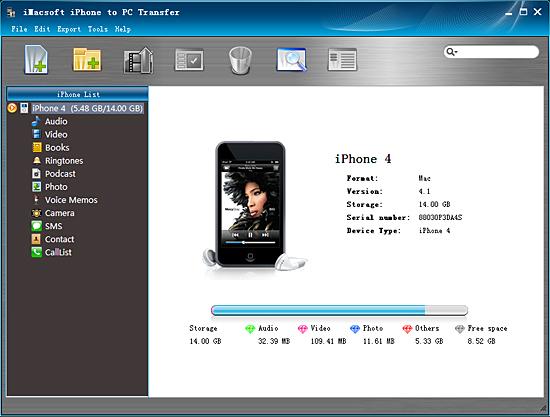 2. Export iPhone contacts as .CSV to PC
Click "Contact" icon in the iPhone list, you will see a small window box ejects and show you the sync process between iPhone and software. Several minutes later, all contacts in iPhone will be displayed on main interface. Press "export the checked files to local" button in the top toolbar and a "Save as..." dialog window box will pop up, select a target folder to save the iPhone contacts on PC. After you finish the setting, all contacts are transferred from iPhone to PC for backup as two format, one is .TXT file, another is .CSV files.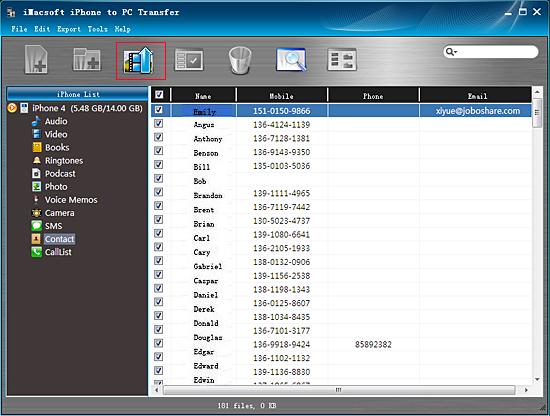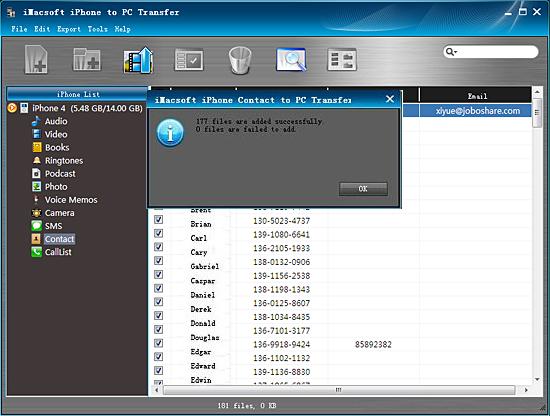 3. Restore iPhone contacts from CSV file to Outlook
Step 1
: Backup all your contacts from iPhone to computer as .csv file format using iMacsoft iPhone to PC Transfer.
Step 2
: Click on Start - All Programs - Accessories, click to open Address Book. In Address Book, click File - Import - Other Address Book..., select "Text File (Comma Separated Values)", click Import, then browser the CSV file, click Next, Map the fields you wish to import, click finish. After all this, you had imported the contacts to your Windows Address Book.
Step 3
: Open Outlook; Open the File menu; Choose "Import and Export"; In the "Import and Export Wizard" dialog box choose "Import Internet email and address", then choose "OUTLOOK EXPRESS 4.X 5.X 6.X", click "Next".
iMacsoft iPhone to PC Transfer
, you can easily export contact from iPhone to PC as .CSV files in just a few clicks. So we strongly recommend you to order this iPhone Transfer that can help you retrieve your important iPhone contacts, and improve the work efficiently.
Ready to try or buy?

5.49 MB

$19.oo