How to transfer downloaded books on iPhone to Mac?
iPhone novice will firstly download or purchase books on iPhone after they get the iPhone device, free install the iBooks app and get so many books on iBooks store. But it is also important to transfer the purchased/downloaded books on iPhone to Mac for backup for new iPhone users. After iPhone mobile lost or Books in iPhone are damaged, you can consider how to get downloaded files recovery.

1) iPhone 4 is available for software, sync music/video to iPhone 4
2) iOS 4.3, iOS 5.0 and newest operating system for iPhone
3) iTunes 10.3 and 10.5 are feasible for iPhone
4) New Apple system--Apple OS X Mountain Lion 10.8
For the iPhone downloaded files recovery, you can firstly make iPhone files backups on Mac local,
iMacsoft iPhone iBooks to Mac Transfer
will help you a lot, it can easily transfer the downloaded books on iPhone to Mac local, if your iPhone is in bad, you can sync the books backups onto new iPhone or reset iPhone. And the following article will offer you a step by step solution and learn how to easily get the iPhone books backups on Mac local.


---
Connect iPhone to Mac computer and then open the program of iMacsoft iPhone iBooks to Mac Transfer, you will see the intuitive and concise interface, so easy and simple to search and operate, all iPhone item folders are listed on the left panel, such as Audio, Video, Books, playlists(podcast, 90's music, my favourites, etc.)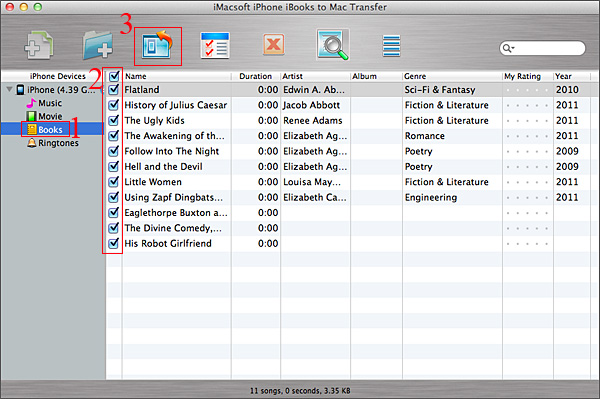 Step 1: Open "Book" library and all books, no matter synced ones from iTunes or purchased/downloaded on iPhone, they are all displayed on the panel, you can view them complete.
Step 2: Browse the books (epub, pdf, audiobook) on the list, then select and check the ones you wanna transfer, press "export checked files to local" button on the toolbar or choose "export checked files to local" option in the top "Export" menu.
Step 3: Now a window box will pop up and select a target folder to save books files on Mac. Press "Save" button to start iPhone books to Mac transferring. A few minutes later, all books on iPhone will be saved on your computer hard drive.

Other skills:
1. Transfer iPhone music/video/podcasts/playlist to Mac
For iPhone music/video/podcast/playlists, the program iMacsoft iPhone iBooks to Mac Transfer can also backup those files from iPhone to Mac .The course of method like iPhone books transferring, open any item you wanna export, and check the files, press "export checked files to local" button for starting.
2. Sync iPhone music/video/playlists/podcast to iTunes library
All item folders in the list will be allowed to sync into iTunes library, in the toolbar, you will see two buttons, one is "export checked files to iTunes", the other is "export playlist to iTunes library", so check the files and press the button to sync music/video/podcast/playlists into iTunes library.
3. Add music/videos into iPhone library
Without any help of iTunes, iMacsoft iPhone iBooks to Mac Transfer also allows you to easily import songs/movies into iPhone library, just convert video/audio into the iPhone video/audio formats they can apply in, then drag the files into the program interface, you will see the copying process on the screen, few minutes later, files will be transferred into iPhone library, you can check them on iPod library in your iPhone.
Ready to try or buy?

11.7 MB

$14.99