How to sync purchase files on iPhone (songs, podcast, book, iTunes U) to iTunes library?
iTunes is a free application for your Mac or PC. It lets you organize and play digital music and video on your computer. It can automatically download new music, app, and book purchases across all your devices and computers. And it's a store that has everything you need to be entertained. Anywhere. Anytime. So here in my iPhone "iTunes", I purchase/free download so many songs, podcast, books, iTunes U, videos, TV Show, etc. And how to sync them in iTunes library on Mac local not in the device?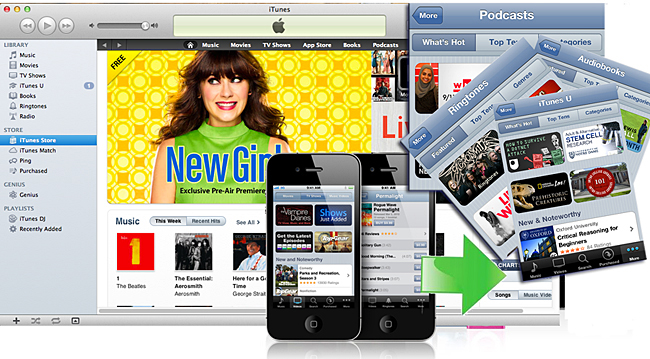 1) iPhone 4 is available for software, sync music/video to iPhone 4
2) iOS 4.3, iOS 5.0 and newest operating system for iPhone
3) iTunes 10.3 and 10.5 are feasible for iPhone
4) New Apple system--Apple OS X Mountain Lion 10.8
All the purchased and free downloaded files (songs, podcast, audio book, books, iTunes U, Ringtones) are saved on iPhone library. For iPhone novice, it is very important to get iPhone purchased files backup on iTunes library in case of iPhone crashed, but how? Search for the program, you will find
iMacsoft iPhone to Mac Transfer
, it allows you to easily sync all purchased files (songs, podcast, books, audiobook, iTunes U) to iTunes library. And the article below will tell you the solution on syncing purchased files to iTunes step by step.


---
Run the iMacsoft iPhone to Mac Transfer software and turn into its interface, connect iPhone to Mac, you will see all iPhone items are shown up as below, such as Music, Video, Photo, Books, Ringtones, Camera, Contact, SMS, Call List, playlist, purchases, Podcasts, iTunes U, etc.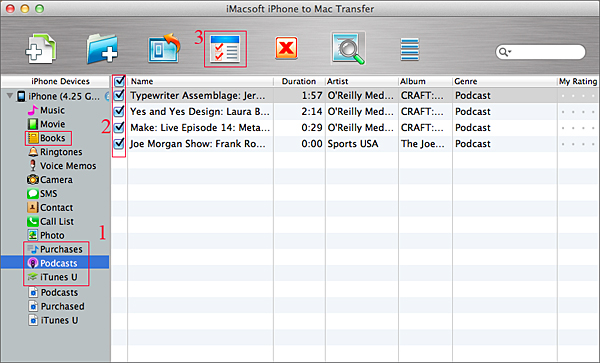 Sync the purchased files on iPhone to iTunes library
In the left panel of the program interface, you will see three useful icons for this exporting files on Mac course. There are Purchases (purchased songs), Podcasts, Books, iTunes U, respectively.
1) Click "Purchases" "Books" "iTunes U" or "Podcasts" in the list, and you will see all files your purchased on iPhone in the interface. Purchased songs in the "purchases" folder and Books folder consists of the purchased books, downloaded on website, pdf, ePub, audiobook are supported. They are all in the "Books" folder.
2) Opeb your favourite purchased items folder and select/check what you wanna export to Mac, and then press "Export checked files to iTunes" button to sync the selected iPhone purchased files to iTunes library.
3) iTunes will run automatically while you syncing iPhone purchased files, and the copying files process will be displayed on the interface, in iTunes panel, sync course in progress for the synced files completely. Few minutes later, you can view all files on iTunes library.
Tips and Notes:
When all purchased files are synced to iTunes library, as you know, they will be shared in the Home Share option, that means, you can sync those purchased files to other Apple Devices, such as iPhone 5, iPhone 4s, iPhone 4, iPad, iPad 2, iPod touch, iPod touch 4. Just connect them on Mac and sync the files to its library with iTunes correctly.

Other Skills:
1)Transfer iPhone music/video/podcast/playlist/camera/voice memos/ringtones/book/photos to Mac local, you can view them on Mac computer.
2) Sync all listed folders(music,video, podcast, playlist, books, ringtones, TV Show, iTunes U, etc.) to iTunes library.
3) Export iPhone SMS, Call List and Contact files to Mac local, save them as TXT format on computer, but for contact transfer, you can keep contact as .csv files that import contact in OutLook or other Address Book in Mac.
4) Import music/video files from Mac to iPhone library without using iTunes, only for the certain/supportive video/audio formats that work well on iPhone device.
Ready to try or buy?
Free Download (6.03MB)

Buy Now ($ 25.oo)

---
Related Articles of iMacsoft iPhone to Mac Transfer: