How to convert ringtones for iPhone on computer?
Is it possible to
convert ringtones for iPhone
on computer? If you have the ringtone on your computer but these good ringtones that can not be compatible with iPhone, you know, only M4R format ringtone can be used as iPhone ringtone. So, if you want to put on these ringtone on iPhone, you need to convert ringtone to iPhone M4R ringtone.
So, What you need is a ringtone converter to convert the audio/video iPhone M4R ringtone. To convert ringtones for iPhone, you can use
iMacsoft iPhone Ringtone Maker
. which can help you to convert all kinds of other format audio files to iPhone ringtones. And refer to the below article: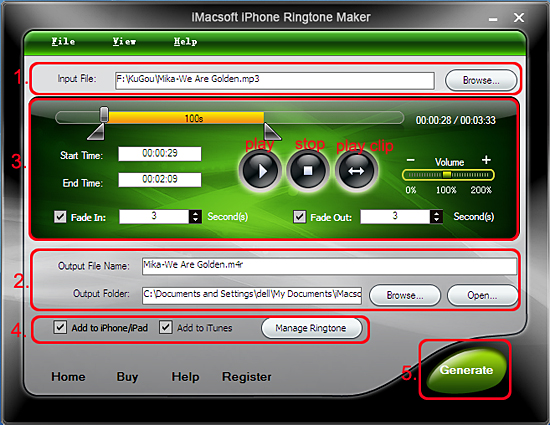 Step 1: Import audio/video files
Import audio/video files you can click "Browse" button to locate audio/video file from computer local. In the local folder you can choose one certain audio/video file and press "Open" button to import audio/video files. Also in the top "File" menu you can choose "Open File" button to import audio/video files to program.

Step 2: Adjust the output settings
Enter the name in the "Output File Name" textbox or keep the original name, and click "Browse" button on the right side of the "Output Folder" to choose a folder for saving the outputted ringtones.
Tips: After convert ringtone for iPhone, you can click "Open" button to view the ringtone directly.

Step 3: Customize the ringtone
1. Extract a clip
Click "Play" button to listen the music and find the part you want. Drag and drop the start & end sliders to get a music clip, or click "Set Start Point" and "Set End Point" buttons to extract a clip when the player comes to the points you want, or type the start & end time directly in the corresponding text boxes.
2. Add fade-in and fade-out effects
Check the "Fade in" and "Fade out" checkboxes, and set the fade-in and fade-out time according to your need.
3. Adjust ringtone volume
Drag the volume slider to set the ringtone volume freely.

Step 4: Adjust the file transfer settings
If you want, check "Add to iTunes" and "Add to iPhone/iPad" options to let the program upload the ringtone to iTunes and your iPhone directly after conversion. Click "Manage Ringtone" button to manage all the ringtones you uploaded to iPhone in the "Ringtone list" dialog that opens.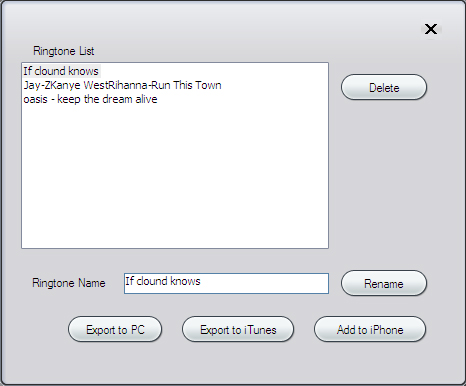 Step 5: Convert ringtone for iPhone
Press "Generate" button to start converting ringtones for iPhone, and all iPhone ringtones are stored in the computer local folder, you can open them and also add iPhone ringtones to iPad/iPhone/iPod touch, even sync the rigntones to iTunes library. Manage iPhone rigntone files freely and you can easily delete, rename or transfer iPhone ringtone files with this
iPhone Ringtone Maker program.
Ready to try or buy?

5.49 MB

$14.99