How to transfer iMessage files from iPhone to Mac local?
iMessage is integrated right inside the iOS 5 Messages app. Users simply type in their message and iOS figures out whether to send it as a text message over the cellular network or as a free iMessage (carrier data charges may apply), which is denoted by the blue chat bubble, over either Wi-Fi or cellular data connection. iMessage works with both phone numbers and email addresses, video, photo, link and text, meaning iPod touch users will be able to exchange iMessages with iPhone and iPad owners and vice versa.
So here I will strongly recommend
iMacsoft iPhone to Mac Transfer
program that will help you easily transfer iPhone iMessage files such as Text, Word, Link, Contact, Video, Photo, etc. to Mac local. And protect iPhone files on Mac local for backup. The article below will show you the solution on how to transfer iMessage files from iPhone to Mac, refer to it and learn more info about this iPhone iMessage Transfer program.
1. Run the iPhone iMessage Transfer program
Install and run the
iMacsoft iPhone to Mac Transfer
program, and connect iPhone device to computer, all iPhone items such as Music, Movie, Books, Ringtone, Voice Memos, Camera, SMS, Contact, Photo, Playlist, Podcast, Purchases and iTunes U are shown on the iPhone interface. If you
purchase this iPhone iMessage Transfer
, all functions you will use and all items will open in the list, fully transfer files to Mac local.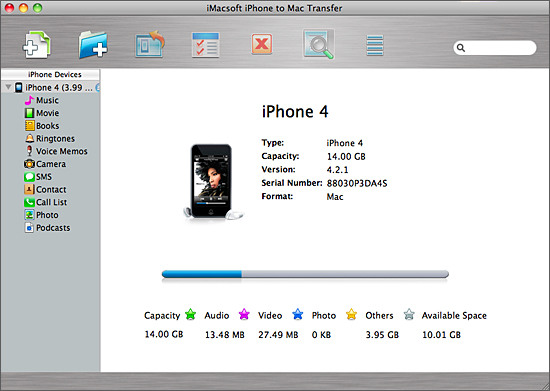 Tip: You should update your iPhone version to iOS 5, and iMessage app just is new feature in iOS 5.0 devices. iPhone 4, iPad, iPad 2, iPod touch, iPod touch 4, etc. And you will get the latest version of iTunes, to iTunes 11.

2. Transfer iPhone iMessage to Mac
Click "SMS", you will find all the SMS information such as Name, Mobile number, Content. And then you can just click "Export the selected files to local" button in the toolbar to start backup iPhone SMS to Mac local fully. You can easily view all transferred iMessage files on Mac local, that saved as .txt file. And all files are noted "From iMessage". Before you transfer iPhone iMessage, there will be a dialog window pops up and you should firstly choose a target folder to save the transferred iMessage files to Mac local.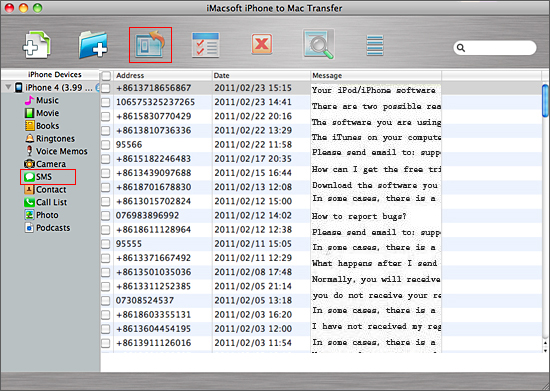 Tips: If you want to specify a SMS, you can use the search function at the top of the window by inputting the precise contact name, and then backup it in the same way. There are three types you can select to save the SMS files. So choose the specific type you prefer. And select the path before you click "OK" to backup your SMS. The last thing to do is to check the SMS file you have saved.
Ready to try or buy?

6.03 MB

$25.oo