How to export purchased files on iPhone (songs, podcast, book, iTunes U) to Mac?
On iPhone, you purchase songs on iTunes store, or free download some interesting podcasts and iTunes U, those things may be so common in daily while using iPhone everywhere and everytime. You can view the purchased files on iPod app in iPhone. But the special for books purchasing, as you know, all books will be placed on iBooks, you can view books on the shelf even buy books on iBooks store.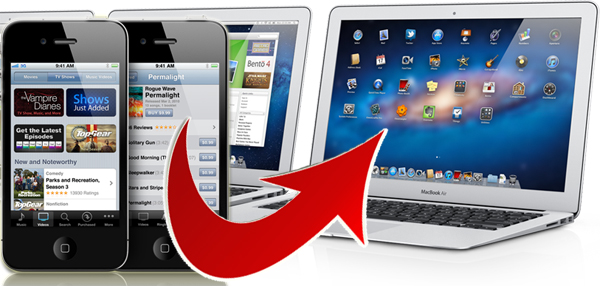 1) iPhone 4 is available for software, sync music/video to iPhone 4
2)iOS 4.3, iOS 5.0 and newest operating system for iPhone
3) iTunes 10.3 and 10.5 are feasible for iPhone
4) New Apple system--Apple OS X Mountain Lion 10.8
The purchased songs/podcasts/books/iTunes U on iPhone can be delivered into certain folders, you can check them on iPod library in your iPhone, also in the
iMacsoft iPhone to Mac Transfer
program, it will list different folders for storing its relevant files on iPhone. Besides this, the iPhone Transfer wil help you manage the iPhone files well, you can view the files and can export them onto Mac local fast and easily.


---
Run the iMacsoft iPhone to Mac Transfer software and turn into its interface, connect iPhone to Mac, you will see all iPhone items are shown up as below, such as Music, Video, Photo, Books, Ringtones, Camera, Contact, SMS, Call List, playlist, purchases, Podcasts, iTunes U, etc.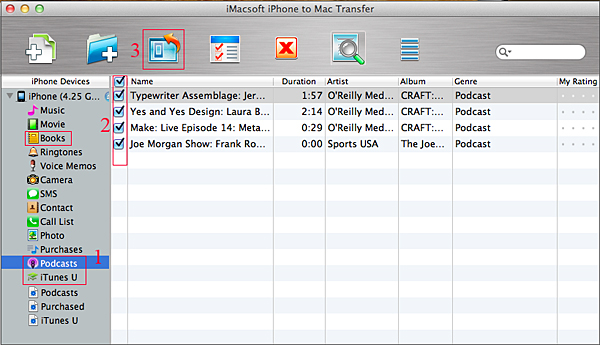 Export purchases/podcast/iTunes U/Books to iTunes library
In the left panel of the program interface, you will see three useful icons for this exporting iPhone files to Mac course. There are Purchases (purchased songs), Podcasts, Books, iTunes U, respectively.
1) Click "Purchases" "Books" "iTunes U" or "Podcasts" in the list, and you will see all files your purchased on iPhone in the interface. Purchased songs in the "purchases" folder and Books folder consists of the purchased books, downloaded on website , pdf, epub, audiobook are supported. They are all in the "Books" folder.
2) Open your favourite purchased items folder and select/check what you wanna export to Mac, and then press "Export checked files to local" button to export purchased files from iPhone to Mac. And a dialog box will eject at once, choose a target folder on Mac local to save the iPhone purchased files.
3) Press "Save" button in the pop-up box, and all iPhone purchased files will be copied into Mac local, and the iPhone files copying progress you will see is in the middle of program's interface.

Other Skills:
1) Transfer iPhone music/video/podcast/playlist/camera/voice memos/ringtones/book/photos to Mac local, you can view them on Mac computer.
2) Sync all listed folders (music,video, podcast, playlist, books, ringtones, TV Show, iTunes U, etc.) to iTunes library.
3) Export iPhone SMS, Call List and Contact files to Mac local, save them as TXT format on computer, but for contact transfer, you can keep contact as .csv files that import contact in OutLook or other Address Book in Mac.
4) Import music/video files from Mac to iPhone library without using iTunes, only for the certain/supportive video/audio formats that work well on iPhone device.
Ready to try or buy?

Free Download (6.03MB)

Buy Now ($ 25.oo)
---
Related Articles of iMacsoft iPhone to Mac Transfer: