How to back up iPad files on PC?
"In case your iPad will be damaged or some contents are lost carelessly, you should firstly back up iPad files on your PC carefully. You may find it is not simple like backup iPad files to PC via USB cable. Why? Because Apple Corporation has protected the copyright for the media supplier. But you can use a third party software --
iMacsoft iPad to PC Transfer
we recommend to help you back up your iPad files to PC in fast way."
Have you ever been confused about how to back up iPad files on PC? In this article, we will show you a step by step guide to transfer iPad files on your PC for backup with this iPad to PC Transfer.
1.Download, install and run the software
Download and launch iMacsoft iPad to PC Transfer. Connect your iPad to PC, and all information about your iPad, such as Type, Capacity, Version, Serial Number, and Format, will be shown on the main interface.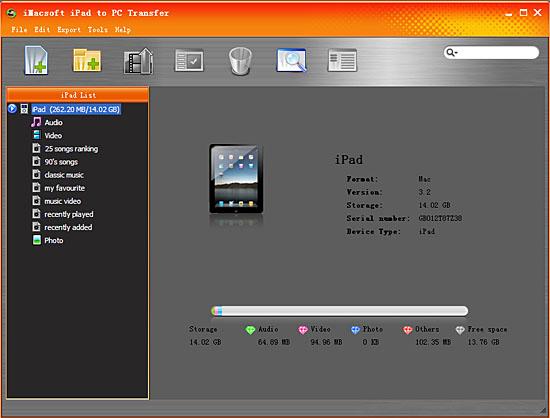 2.Back up iPad files to PC (take "video" for example)
1) Open the "Video" library that you want to transfer. All these files are shown in file browser.
2) Find the files you want to transfer and check them.
3) Click the "Export->Export to local" option on the "File" top-menu, or directly click the "Export checked files to local" button to export and select the target folder for saving iPad files in the dialog that appears, and press "Save" button and start to transfer video from iPad to PC.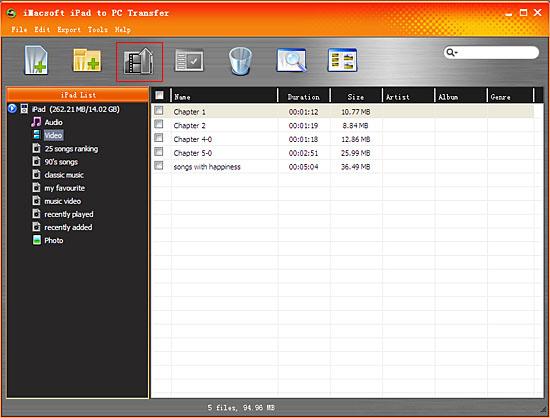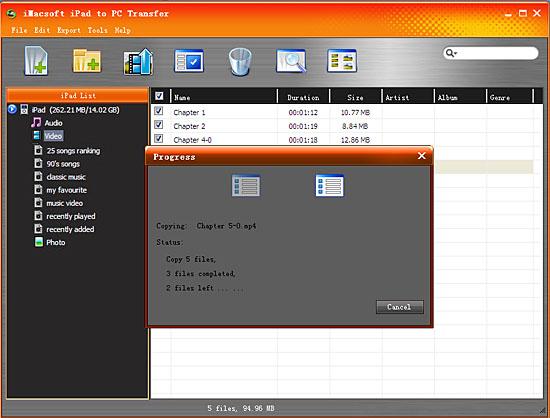 Well done, you can easily backup iPad files to your PC with iMacsoft iPad to PC Transfer software just with a few clicks. So we strongly recommend you to order this iPad Transfer for enjoyment and appreciation entirely.
Ready to try or buy?

5.50 MB

$19.oo